Township of Hillside Police Department Website
Louis Panarese
Chief of Police
MISSION STATEMENT
It is the mission of the Hillside Police Department to safeguard the lives and property of the people we serve, to reduce the incidence and fear of crime, and to enhance public safety while working with our diverse communities to improve their quality of life. Our mandate is to do so with honor and integrity, while at all times conducting ourselves with the highest ethical standards to maintain public confidence.
ROAD CLOSURE ON OCTOBER 22,2016
New Jersey American Water will be performing emergency repairs and will be required to close Sweetland Ave to thru traffic on Saturday 10/22/2016 between 9am-5pm. All truck traffic in the area should detour via North Union Ave to Chancellor Ave to access Rt 78. All truck traffic in the areas of Ramsey Ave /Bloy St and Hillside Ave should detour to Chancellor Ave to access North Union Ave.
RECENT REPORTS OF ALLEGED CLOWNING
INCIDENTS NATIONWIDE
Throughout the nation police departments have been receiving complaints of clowns chasing people, attempting to lure people, causing lockdowns at schools or just being present and alarming residents. There is no validity to these reports. They are simply pranks being conducted by juveniles and young adults.
The officers of the Hillside Police Department have been briefed on this new trend and individuals who disrupt the tranquility of our community by participating in this trend would be subject to the following criminal charges:
Any individual who directs violence toward a school or other area of public assembly and creates fear,may be charged with the offense of "False Public Alarms" (2C:33-3)
Any individual who directly threatens anyone, may be charged with "Terroristic Threats" (2C:12-3) or under "Harassment" (2C: 33-4)
Any individual who has has been dealt with at a location and then chooses to return after being warned about their conduct previously, a statute of trespassing (2C:18-3) or even stalking (2C:12-10) may be charged.
Any individual who approaches a juvenile and lures or attempts to lure him/her to a secluded area the statute of Luring or Enticing a Child (2C:13-6) will be charged. If an adult is the victim, a statute of Luring or Enticing an Adult (2C:13-7) will be charged.
An individual who engages in conduct that would expose others to bodily injury or death, a statute of Endangering Another Person (2C:24-7.1) may be charged.
Citizens are encouraged to contact the Hillside Police Department if they observe any suspicious individuals or activity.
IF YOU SEE SOMETHING
SAY SOMETHING
If you observe something suspicious or in need of police attention, please contact:
Hillside Police Department at (973) 926-5800.
If you wish to remain anonymous, information can be submitted at:
The Township of Hillside Police Department values it's collaborative relationships with all members of our community. We encourage residents to forward any concerns they may have to assist our agency in best serving our residents and Township of Hillside.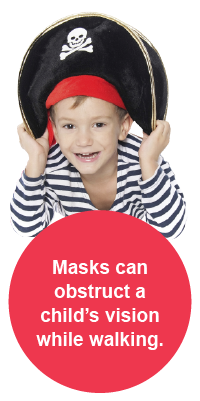 Everyone loves a good scare on Halloween, but not when it comes to child safety. There are several easy and effective behaviors that parents can share with kids to help reduce their risk of injury.
Hard Facts
On average, children are more than twice as likely to be hit by a car and killed on Halloween than on any other day of the year.
Top Tips
Decorate costumes and bags with reflective tape or stickers and, if possible, choose light colors. Since masks can sometimes obstruct a child's vision, try non-toxic face paint and makeup whenever possible.
Have kids use glow sticks or flashlights to help them see and be seen by drivers.
Children under the age of 12 should not be alone at night without adult supervision. If kids are mature enough to be out without supervision, remind them to stick to familiar areas that are well lit and trick-or-treat in groups.
Popular trick-or-treating hours are 5:30 p.m. to 9:30 p.m. so be especially alert for kids during those hours.
When selecting a costume make sure it is the right size to prevent trips and falls.
Learn More
Here are a few more tips on how to keep your kids happy and safe on Halloween.
Resources
Did You Know?
It can be hard for child pedestrians to judge speed and distance